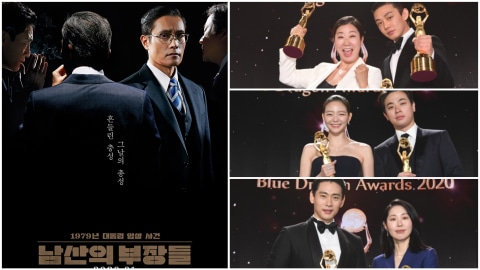 Blue Dragon
Film
Awards ke-41 telah digelar di Paradise City Incheon pada Selasa (9/2). Ajang penghargaan film Korea bergengsi ini kembali dibawakan Kim Hye Soo dan Yoo Yeon Seok, yang telah terpilih sebagai
host
selama tiga tahun berturut-turut.
Setiap tahun, nominasi penghargaan Blue Dragon Film Awards dipilih melalui survei dari para ahli industri
film Korea Selatan
dan penonton bioskop di sana.
Tahun ini, nominasi diambil dari film-
film Korea
yang dirilis antara 11 Oktober 2019 hingga 29 Oktober 2020.
Samjin Company English Class menjadi film yang paling banyak meraih penghargaan dengan tiga piala. Sementara penghargaan The Best Picture jatuh ke The Man Standing Next.
Di sisi lain, Yoo Ah In memenangkan penghargaan Best Actor lewat Voice of Silence, dan Ra Mi Ran memenangkan Best Actress lewat Honest Candidate.
Berikut daftar lengkap pemenang Blue Dragon Film Awards ke-41.
1. Best Picture: The Man Standing Next
2. Best Director: Im Dae Hyung – Moonlit Winter
3. Best Actor: Yoo Ah In – Voice of Silence
4. Best Actress: Ra Mi Ran – Honest Candidate
5. Best Supporting Actor: Park Jung Min – Deliver Us From Evil
6. Best Supporting Actress: Esom – Samjin Company English Class
7. Best New Director: Hong Eui Jung – Voice of Silence
8. Best New Actor: Yoo Tae Oh – Vertigo
9. Best New Actress: Kang Mal Geum -Lucky Chan-Sil
10. Best Screenplay: Im Dae Hyung – Moonlit Winter
11. Best Cinematography and Lighting: Hong Kyung Pyo – Deliver Us From Evil
12. Best Editing: Han Mi Yeon – Beasts Clawing at Straws
13. Best Music: Dalpalan – Samjin Company English Class
14. Best Art Direction: Bae Jung Yoon – Samjin Company English Class
15. Best Technical Achievement: Jin Jong Hyun (Visual Effects) – Ashfall
16. Best Short Film: Lee Na Yeon, Cho Min Jae – The Thread
17. Popular Star Award: Yoo Ah In, Jung Yu Mi
18. Audience Choice Award for Most Popular Film: Ashfall